Fifth Annual GAMA User Conference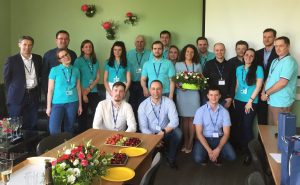 On May 15th, 2019 InfoStroy hosted the fifth annual GAMA user conference in Saint Petersburg. The conference was attended by our dear colleagues from Moscow, Kazan, Surgut, and Saint Petersburg.
The program of the event covered the most relevant accounting issues (amortized cost, REPO re-evaluation), risk management (stress testing directly in GAMA and uploading data to the regulator files), and investment analysis (yield calculation options, asset management company (AMC) performance report). It also included an overview of GAMA's automatization of routine operations ("Agent" application) and data visualization features (dashboard functionality).
In addition, the conference introduced an advanced analytical feature — a new module ALM (Asset & Liability Management). The first version of the ALM feature is already available to GAMA users.
2019 Conference overview:
·         Stress test with a human face: implementation in GAMA
·         "Sweet couple": native stress test in GAMA and export into the Central Bank stress-test model
·         "Minimum program requirements" for an effective stress testing
·         "A good life is even better!": new additions to make the work easier
·         Amore mio: asset accounting at an amortized cost in GAMA
·         One more time about REPO
·         Trust, but verify: AMC efficiency control
·         "Show me the yield!": Types of Yield in GAMA
·         You've got to see it! (visualization in GAMA)
·         A matter of skill (возможно "A piece of cake" если значение дела техники — "очень легко"): what GAMA Agent is capable of
·         This mysterious ALM …
·         All about GAMA's support
The informal setting of InfoStroy's conference helped facilitate effective communication between the attendees and exchange their experience and opinions regarding the direction of future development of GAMA.