GAMA at Investfunds Forum XIII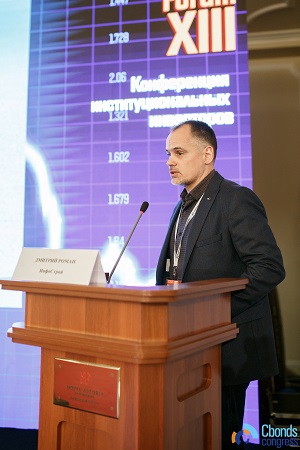 InfoStroy Ltd. sponsored the XIII Annual Conference of Institutional Investors "Investfunds," held on May 19-20, 2022 in St. Petersburg.
The main topics of the event were new conditions and opportunities for investment in the current difficult geopolitical environment.
Marketing Director Dmitry Roman spoke at the forum with a report titled "GAMA Terminal — another step towards building an effective infrastructure for asset management".
"The evolution of working with data and reporting on the stock market is reminiscent of the development of road navigators – first there were paper maps, then simple digital maps, and finally, digital maps with live traffic updates: traffic jams, camera locations, and accident warnings. The same is true in reporting: first there were printed reports, then reports in Excel, then dashboards. However, it was still static data. Now we are introducing GAMA Terminal to the market. Unlike many other terminals, GAMA Terminal provides «live» data not only on the market, but also on portfolios. Data can be static or it can be constantly recalculated and displayed on your screen. Now you can turn on your computer and immediately get up-to-date information on all portfolios.
Moreover, GAMA Terminal allows you to combine various data sources. Now you can simultaneously see data on assets, risks, obligations of the company, information from accounting, etc.—all on one screen. This is a completely new level of viewing your company and a new level of working with data…," Dmitry comments.
Dmitry paid special attention to the financial benefits of implementing the GAMA portfolio management system. Services such as GAMA Agent (automation of routine operations) and GAMA Market Agent (updating market data) allow to save on at least one full-time employee salary.
Today, GAMA Terminal has become another big step for our company towards the implementation of a reliable and efficient asset management infrastructure for the investor.